Enjoy Your Memorial Day Weekend! 
New Surroundings and a New Partner
Over the last few weeks, the Southeast Regional Cooperative has completed the transition of it's mixing center to Fresh Point Atlanta's new state of the art facility in Fairburn Georgia.  This change will give us added flexibility and help us keep costs down in the long run.  And of course there is the added benefit of having a great team of professionals helping us to meet the needs of the cooperative and the people we all serve.  A very special thank you to Lee Woodham, Ben Thrailkill, Malcolm Robinson, Robert Fields, Courtney Ritter, Pam Kendrick, Dallas Leake, Jose Quiroz and so many more at FreshPoint Atlanta who have helped to make the transition so smooth.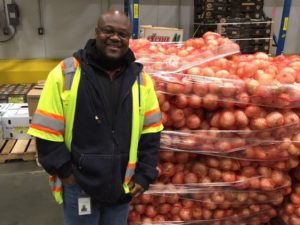 Vidalia Onions!
The Southeast Regional Cooperative is blessed with a very good supply of Vidalia Onions during certain times of the year and we are in the thick of them right now.  Ever wonder what makes a Vidalia Onion so special?  Check out this article on the history of vidalia onions.
Tomatoes from the Boarder!
The gut wrenching picture that you see below is produce being dumped in Nogales Arizona, the largest inland "port" for produce in the world.  Unfortunately it is shockingly common for produce to end up this way for a host of reasons ranging from scarring to market (price) wars between competing growing regions.  Thanks to the efforts of our Feeding America Food Banks in Arizona we are able to help rescue some of this product.  The second picture shows one of two loads of rescued tomatoes we have received recently from Nogales.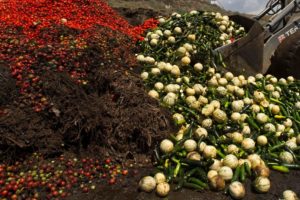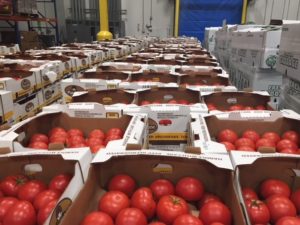 Picture Perfect:
Lately we've seen beautiful carrots, onions, cabbage, sweet potatoes, squash, zucchini, and much more.  However, this eggplant takes the prize for the prettiest produce to grace our mixing center in quite a while.